PetroVietnam University is located at 762 Cach Mang Thang 8, Long Toan Ward, Ba Ria City, Ba Ria - Vung Tau Province. Built on a land area of 4,806 m2, the building is 9-floors-high with a total floor area of about 10,671 m². Its design scale is sufficient to meet PVU's current undergraduate and graduate teaching activities and organization of advanced training courses.
Office area
PVU's office area includes 15 rooms with a total area of about 3000m², ensuring that there are separate working rooms for all of PVU's units and positions including Principal, Vice President, Chief Accountant, experts... The working rooms are fully equipped with working facilities and modern equipment, meeting the staffs and lecturers' working and management needs at a high level.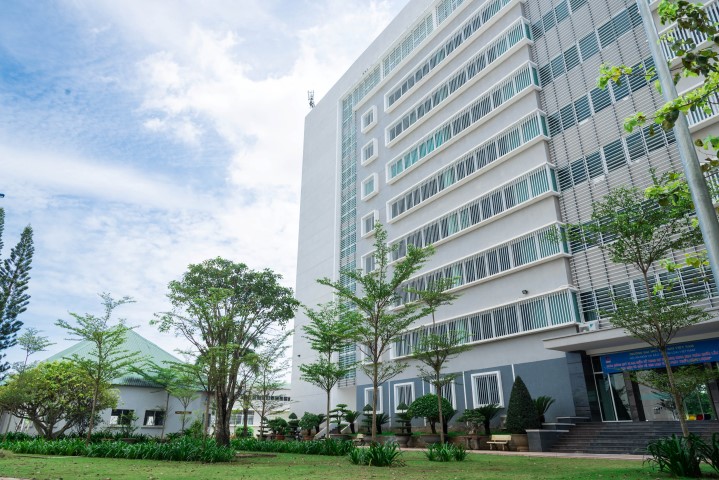 Lecture halls and classrooms
PVU's lecture hall includes more than 20 classrooms with a total area of more than 2000m². Lecture halls and classrooms are synchronously equipped with audio equipment, projectors, air conditioners, and a wifi system that covers the whole school to best serve teaching and learning activities of lecturers and students.
Laboratories and computer rooms
PVU is a technical training university, with a training orientation closely linked to production and business practices, so PVU has been having great interest in investing equipment for teaching and learning, especially laboratory equipment. Currently, PVU has invested and put into operation a system of 24 laboratories in general, basic engineering and specialized majors with the total investment of more than 150 billion dong. All the laboratory equipment are modern and highly precise, of which we have to mention the outstanding core-flooding system which is worth more than 10 billion dong and many modern analytical equipment such as SEM scanning electron microscope, Raman spectrum analyzer. , Atomic force analyzer AFM, X-ray diffraction analyzer – XRD...
PVU also put into operation 01 computer room for practice and multiple-choice exams with the scale of 70 computers, 02 E-learning rooms with 40 computers each. In particular, PVU also has 03 simulation rooms installed with specialized softwares sponsored by foreign partners, including PVU-Schlumberger Mine Modeling Center ($10.3 million), Automation Training Center and process control PVU-Honeywell ($108,000), Laboratory of Geology ($5.5 million).
It can be said that these are the best conditions for PVU students to practice and quickly acquire the knowledge, so that they can work right away after graduation without retrain.
Gym
The Gym is located on the 3rd floor of the building, equipped with many sports equipment, such as bicycle machines, weights, etc. so that staff and students can exercise after stressful working and studying hours. In addition, the school also arranges a table tennis room and a yoga room in the building.
Library
The library has a total area of 160 m2, equipped with specialized tables and chairs to serve the needs of reading documents for about 60 readers. Besides, the Library is also equipped with computers with internet connection, scanners, and photocopiers to assist readers in searching and using documents conveniently.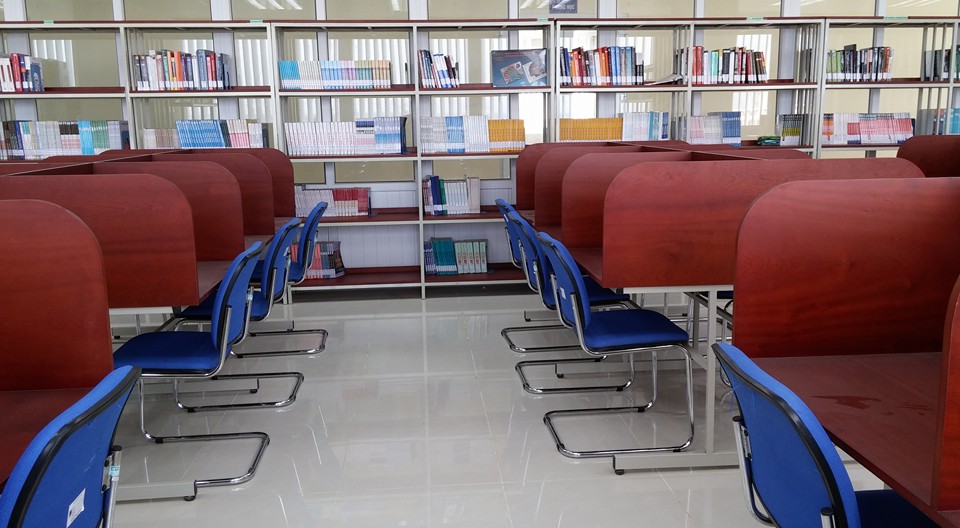 The library's learning resources are diverse, including books, journals, theses, conference proceedings, scientific research topics, electronic documents...with content relevant to the majors being trained at the University.
Books and monographs
Currently, the School Library has more than 400 titles (2510 books) of textbooks and specialized references in Vietnamese; 750 titles (800 books) of textbooks and specialized reference books in English along with foreign language learning books. At the same time, the Library also keeps dozens of master's theses, proceedings of domestic and foreign scientific conferences, and scientific research topics at all levels. In addition, the Library has purchased a large number of specialized petroleum journals published domestically and abroad such as SPE Journals (American Society of Petroleum Engineers), Oilfield Review (Schlumberger Corporation), Petroleum Magazine (Vietnam Oil and Gas Group).
These documents are selected by PVU from prestigious universities and publishers in the world in the field of oil and gas. PVU annually increases the number of books and magazines according to the training scale.
Electronic resources
In addition to paper documents, PVU lecturers and students can use the electronic resources through the university intranet. More than 1000 electronic documents have been digitized and can be accessed through the University's Library Portal. The library has also purchased access to electronic document databases of famous publishers in the world such as Springer Link, Science@Direct, IEEE Xplore Digital Library, Taylor & Francis, etc. to expand capabilities to find documents for readers.
In addition, the library provides links to free learning resources of major universities around the world.
Dormitory and Sports Area
The dormitory of PVU students is located in the dormitory complex with PetroVietnam Manpower Training College (PVMTC), meeting 100% of students' accommodation needs. The dormitory is fully equipped with essential living facilities, internet system, water purifier and many other accompanying utilities such as cafeteria, self-study room, gym, sports area such as volleyball court, football field, ensuring a comfortable life for the students.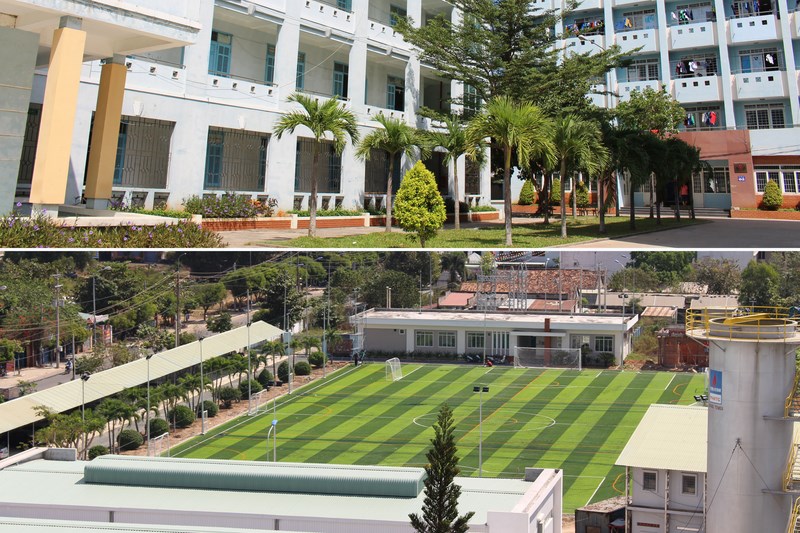 Management and Use of Assets and Laboratories
In order to manage the use and preservation of common assets, the University has issued Regulations on Management and Use of Assets of the University. These regulations apply to all PVU units to unify the methods and responsibilities of each unit and individual in the management and use of assets, tools, and materials for management and training activities of the University.
For laboratories, the University has also issued Regulations on the Management and Use of Equipment and Laboratories at the University, regulating principles and contents of management and use of facilities, scientific and technological equipment and laboratories to effectively manage and use for training, scientific research and scientific and technological services.
In addition, the University has also issued procedures for coordination among its units in activities related to equipment management and maintenance.
Sanitation and fire safety
Fire safety is always placed as our top priority. The building is equipped with a modern fire protection system with smoke detectors, fire alarms and automatic fire pumps. Along the corridor of each floor, there are eight fire extinguishers, two fire hydrants, emergency exit lights, fire safety rules and emergency exit diagrams.
In the laboratories with high risk of fire and explosion, additional fire extinguishers are equipped. All laboratories have laboratory safety rules and guidelines which specify the principles for students and instructors to follow when studying and working in the laboratories.
In order to quickly cope with the fire, PVU has established a grassroots fire prevention and fighting team with all members having basic fire safety training and are granted fire protection certificates by the Fire Police. Every year, PVU organizes fire fighting and prevention rehearsals for all members of the grassroots fire prevention and fighting team, PVU staff, and students.
PVU signs aan annual contract with a maintenance unit to maintain the fire protection system and to load fire extinguishers to ensure that the school's fire protection system is always in the best working condition.
To ensure environmental sanitation, the University collects and separates household waste and hazardous waste. We also sign contracts with waste collection and treatment units to collect and treat these types of waste.