On September 20th, in Ba Ria city, PetroVietnam University (PVU) held the Graduation Ceremony, awarded engineering degrees and opened the new school year of 2019-2020.
At the ceremony, PVU vice Principal- Mr. Le Van Sy reported on the summary of the 2018-2019 school year and the direction for the 2019-2020 school year. Accordingly, in the past school year, PVU has trained 209 students (students) at full-time level, 31 students of master's degree in marine engineering, petroleum engineering, chemical engineering, performing scientific research, training services with encouraging achievements. The school also recognized the graduation of 43 undergraduate students of Course 4; the academic results of the remaining courses: 7.9% students of the whole school with excellent grades, 49.1% with good grades and 39.4% with average - good grades.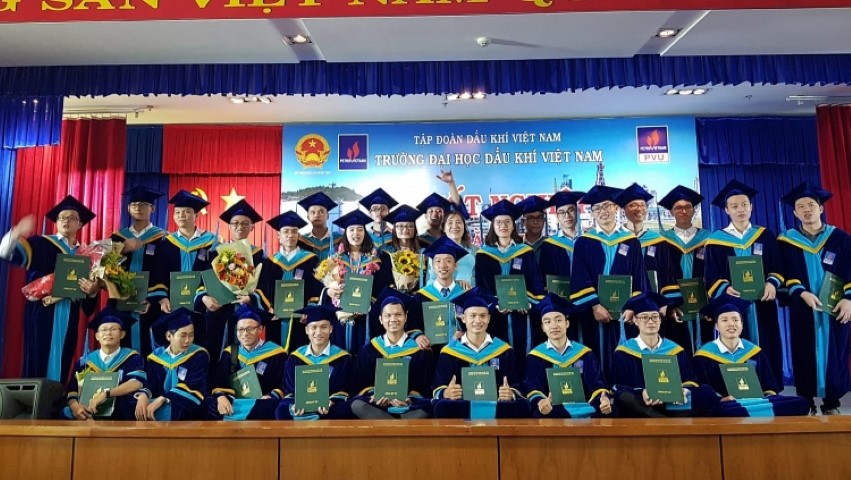 In addition to studying, PVU students also actively participate in activities such as green summer program, volunteer activities, social security, blood donation, and academic activities. At 2018 PetroVietnam University's Student Cultural Festival, PVU students won all the first prizes in all subjects; won the third prize in the Eureka Science Research Student Competition...
Regarding international cooperation, PVU has effectively implemented the contents signed with partners such as: Honeywell UOP Group (USA), Haldor Topsoe (Denmark); New Mexico Tech University (NMIT) granted 02 Master scholarships for students majoring in Drilling. In particular, PVU and NMIT have signed a joint training contract under the 2+2 program (2 years at PVU, 2 years at NMIT) with a special tuition fee for PVU students. Moreover, Baker Hughes Company (USA) also funded the construction of the GE Geomechanical Laboratory in the Oil and Gas industry worth $5.5 million.
Entering the new school year, in the context that the whole Oil and Gas Industry is trying to restructure to prepare for new development steps with future orientations, Dr. Phan Minh Quoc Binh, PVU Principal, has called on all lecturers, staff and students of the whole school to unite to strive to maintain training quality, soon to stabilize the organization and operation according to the orientation of restructuring PVU of PVN, to expand training forms and innovate teaching methods, consolidate PVU's position and reputation in Vietnam's higher education system.
Speaking at the ceremony, Dr. Phan Ngoc Trung- Board of Members PVN acknowledged the outstanding efforts and achievements of all PVU lecturers, staff and students. He also recognized essential results in the past academic year of PVU. After 9 years of establishment and development, PVU's collective has united and agreed to overcome difficulties and successfully completed the training programs with 4 graduation courses, nearly 350 petroleum engineers; 100% had jobs after one year of graduation and were highly appreciated by businesses for their expertise; many former students of Course 1 have now become managers, or successfully defended doctoral thesis at prestigious international universities.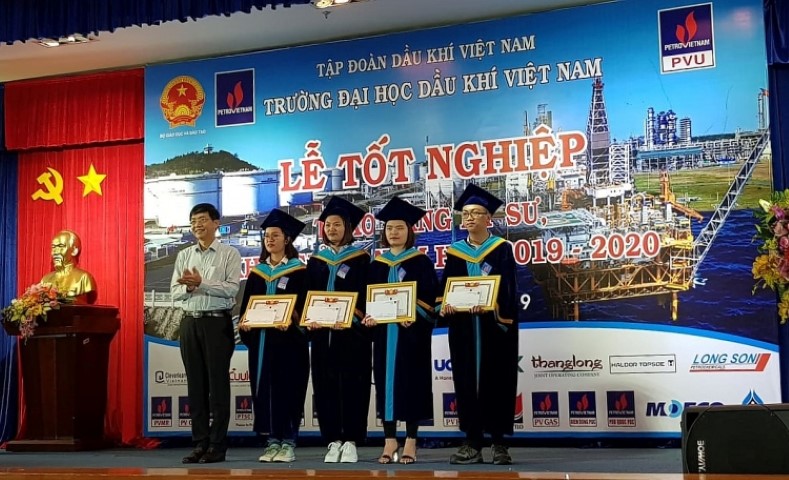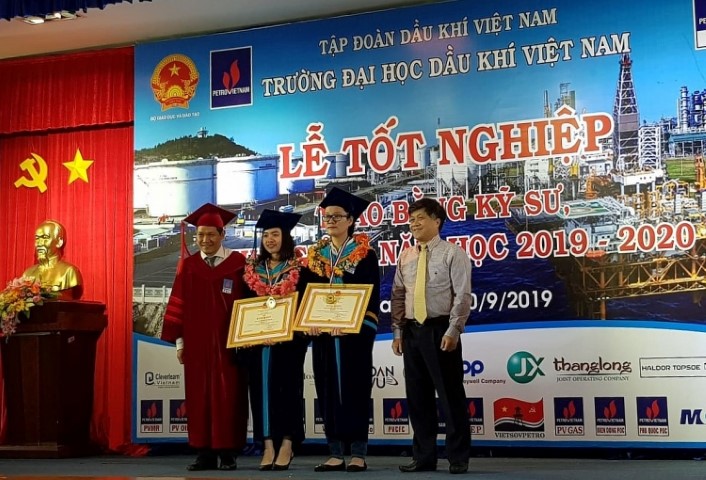 At the ceremony, PVU announced the graduation decision and awarded the engineering degrees to 43 graduates of the 4th course (school year 2014-2019), and awarded the Honeywell UOP Group's specialized training certificates in Refining and Petrochemicals to the graduates. The PetroVietnam Group awarded certificates of merit and rewards to 2 valedictorian graduates with the amount of 10 million VND/student; gave certificates of merit and rewards to excellent graduates; reward excellent students in all activities for the whole school year 2018-2019; praised students achieving excellent academic results in the second semester, academic year 2018-2019; praised new students with the highest scores in the entrance exam of PVU in the 2019 enrollment period.
Dr. Phan Ngoc Trung Member of the Board of Directors of PVN beat the drum to open the new school year
In the spirit of educational socialization realized by sponsorship contributions, at the ceremony, units in the oil and gas industry, domestic and foreign organizations and businesses sponsored many scholarships, contributed to the Student Development Fund and PVU's activities. Since 2017 PVU has granted nearly VND 1.4 billion from 18 companies/units. PVU has spent more than VND 1.3 billion to award scholarships to students with high academic achievements, students who won high prizes in domestic and international competitions or students with difficult circumstances...